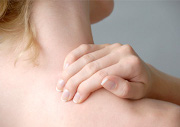 Neck and Shoulder massage
Pain through tension in neck and shoulder can be caused by
wrong sitting positions during work, spending too much time at
the computer or stress.

This massage focuses on the neck and shoulders. The muscles
and tension are relaxed through massage and toxins are therefore removed.

This massage is also very relaxing.